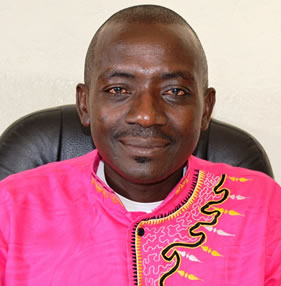 Mr. Henry Atuma, Students' Counsellor


Online Students Counselling Services
Dear Students,
This is to welcome you to the University's online counselling services. This platform is meant to offer support to students as many students as possible particularly due to this period of COVID-19 Pandemic restrictions such as social distancing.
It is worth noting that the information you share with the counsellor is treated confidential and the response sent back to the student is sent under confidentiality. There will be no information shared that can be seen by any person except the University Counsellor. You are therefore free to share any issue with the counsellor however embarrassing you think it may be. The counsellor is non-judgemental and empathic as support is given to you.
The basic procedure form will require that you fill the following:
1.    Name
2.    Registration Number
3.    Mobile Number
4.    E-mail
5.    Write Issue
6.    Submit
After the student submits, the counsellor's response is sent to the student's e-mail. In case you have a challenge with your e-mail, contact ICT.
The counselling services offered by the University's Students Counsellor enables a student, make daily life adjustments and/or cope with emotional difficulties.
These Counselling Services promote and facilitate holistic students' growth and development through close confidential interaction with students. This support assists in the identification and management of students' challenges which affect both their academic and non-academic pursuits which in turn affect their mental health and general well-being in the process of becoming.
Peer Counselling
The Peer Counselling function was installed in the University of Embu in February 2016. The office of the Dean of Students was initially responsible for the training of students peer counsellors. However, these functions are now under the Peer Counselling Training and Support Committee with a Chair, members and a secretariat.  Peer counselling services allow for the decentralization of counselling services hence getting to the larger students' body.
The training is done annually and students are selected through a competitive process that begins with a call for applications, voluntary application, shortlisting, selection using criteria, training, commissioning of trained peer counsellors and finally start of practice. The peer counsellors receive peer counsellor support supervision whenever they are face with dilemmas during their practice.
Currently the university has 75 (seventy-five) trained peer counsellors. Due to the increase in the number of students at the university, the number will increase from 75 (seventy-five) to 150 (one hundred fifty) by the year 2021.
It's believed that students are more likely to share their problems with fellow students than with a parent or their lecturers, because their socializing with each other in fora such as sports, free-time, hostel living among other relaxed social fora and co-curricula activities which makes it easy for the peer counsellors to identify potential counselling cases.
euPeers club

All trained peer counsellors in the university automatically become members of the euPeers which is the peer counsellors club. The club holds regular meetings where the student peer counsellors discuss counselling issues and challenges they face, under the guidance of a counsellor.The counsellor also offers supervision and support to the peer counsellors so as to address some of the dilemmas they face during their peer counselling practice. The club is also used as a platform for continued training, skills development and improvement of the students' peer counsellors.
Disclaimer
All counselling is confidential and may be done on an individual or group basis.